The biggest predictors for stress resilience are social support and connection with meaning & purpose. Our courses and coaching develop these skills along with stress management, sustained attention/performance, deep work, supportive lifestyles, mindset skills, sleep hygiene & evidence-based wellbeing interventions, positive psychology at work, behaviour change, connection to core values and compassion.
Jonny is an expert trainer, helping organisations to apply mindfulness, compassion and evidence based psychological skills to improve individual and team performance, reduce mental health stigma, strengthen organisations, increase wellbeing and align teams with their core values.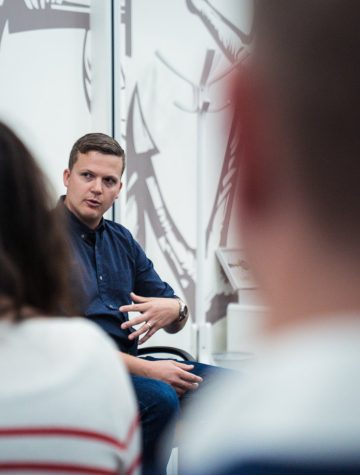 He does this by providing a range of training and coaching services. These include single workshops, 4- and 8-week courses (or longer), ongoing consultancy (quarterly trainings and reviews), 1-2-1 coaching, ongoing mindset sessions and senior leadership trainings.
As a therapist he was worked with elite performers including CEO's of global Tech Firms, world class athletes (Professional and Olympians), Military and Frontline Responders leaders, senior NHS leaders, Artists (Actors, Musicians, Filmmakers), Finance leaders and many other leaders in their fields.
Recent Training Topics
Recent Clients
Recent Training Topics
Training for Senior Leadership Teams – Empathic Leadership, Resilience & Wellbeing

Mindfulness and Compassion for Business – 4- or 8-Week course

Empathy and Compassion at Work

15 Min Morning Mindset Session (over the Pandemic)

Reframing Stress – Stress Management 

Reconnecting After the Pandemic

Mindful Communication at Work

Finding Certainty in Uncertain Times

Deep Work and Flow

Pillars of Resilience and Wellbeing

Mindset Skills for Work
Recent Clients
Dougie
IT Consultant
Jonny is an exceptional teacher. If you have a chance to practice meditation with Jonny then please take it. You won't regret it!
Nora
Retired
My mind goes 100 miles a minute, so this is really a great way to slow down. This is a brilliant technique, which does make a difference at times of emotional difficulty. Thank you Jonny!
Jenni
Social Services Manager
Jonny created a very friendly atmosphere in the class. This enabled me to learn how to relax – I would recommend Jonny's teaching style to anyone. I met some great people in the class, some of whom are still very good friends of mine.
Katy
Actress
Jonny teaches with great clarity and his enthusiasm for mindfulness is infectious. He draws upon extensive knowledge and is always happy to answer everyone's questions. He keeps things simple and easy to follow and reassures us beginners at regular intervals- he seems to know when my mind wanders in meditations and gently guides it back! I would recommend Jonny as a mindfulness coach to anyone.
Martin
Financial Advisor
Before this course, I had never tried anything like mindfulness before. I found that Jonny made the classes profoundly enjoyable – he is able to create an atmosphere conducive to deep relaxation where all the stresses I have built up seem to drop away. I always ended up feeling much better both physically and mentally after each mindfulness session and I wouldn't hesitate to recommend him to anyone.
Subscribe To Our Newsletter!